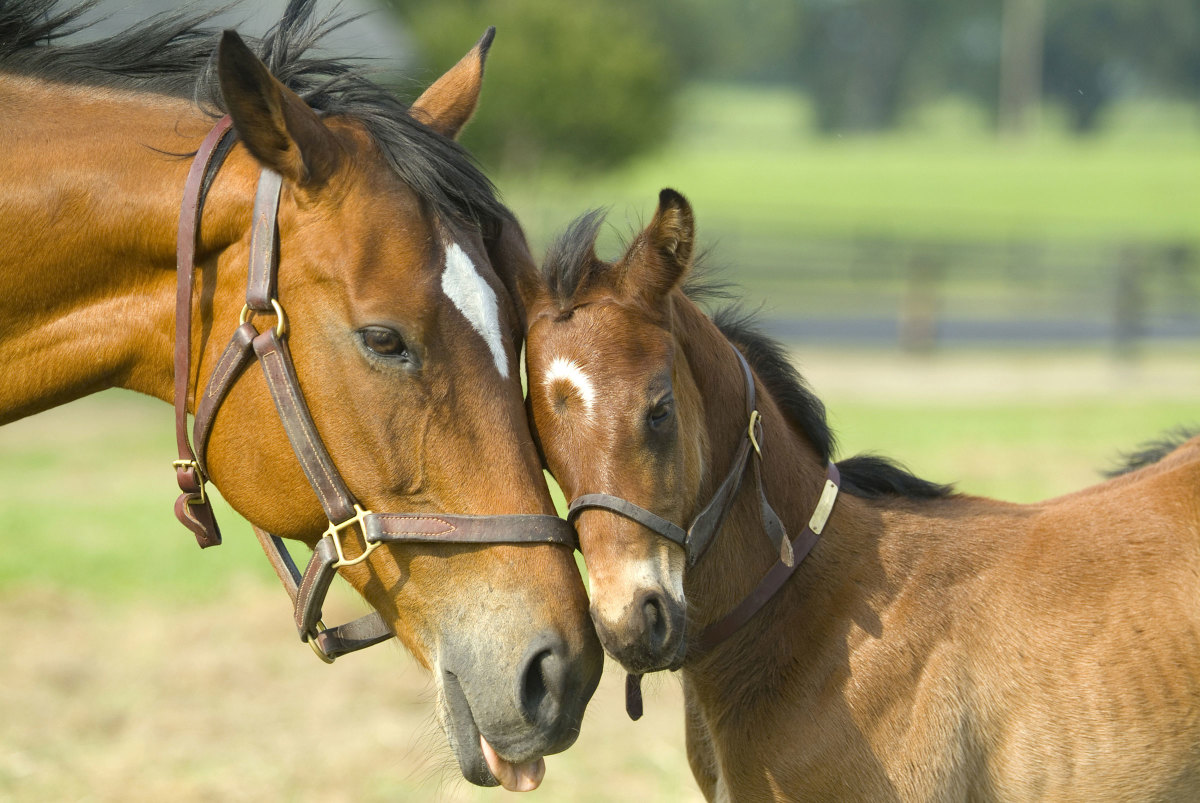 Editor's note: This article was first published in the Summer 2016 edition of EquiManagement magazine.
Foals younger than two weeks of age can present with an acute onset bloody diarrhea that requires immediate and aggressive treatment. Foals and dogs have a similar necrotizing diarrhea syndrome caused by the same toxin—a pore-forming toxin that creates holes in the intestinal wall through which electrolytes are lost and blood enters the GI lumen. Usually the fever and bloody diarrhea occur within the first five days of age.
Research into this syndrome has been ongoing for decades. Current findings have identified that Clostridium perfringens has something to do with the illness. Within the last year, two toxin genes have been identified—NetE and NetF—that are highly correlated to both the equine and canine problem. These two genes are associated with enterotoxin production by certain strains of C. perfringens Type A.
IDEXX Laboratories, under the oversight of Christian Leutenegger, Dr. Med. Vet, PhD, FHV, and Head of Molecular Diagnostics at IDEXX Laboratories, has developed a test for the NetF toxin gene, which has been included in a new Foal Diarrhea/Enterocolitis Real PCR panel. The test, available through IDEXX, can be ordered as a stand-alone test, but Leutenegger recommended using either the full Foal Diarrhea Panel or the even more comprehensive Equine Diarrhea Panel. The Foal Diarrhea Panel tests for Clostridium perfringens NetF and NetE toxin genes, Clostridium difficile toxin A and B genes, Cryptosporidium spp., equine coronavirus, rotavirus and Salmonella spp.
Fecal samples are sent to the IDEXX lab in northern California, with results available within one to three days. Leutenegger stressed that empirical therapy is not always sufficient to make appropriate treatment decisions, whereas an accurate diagnosis via testing facilitates appropriate treatment to prevent death of the foal, as well as the ability to make appropriate management decisions.
While there might be some environmental influences, the key reason that some foals are affected is not fully known. It appears that some individuals have fewer defensive mechanisms against C. perfringens, which is part of the normal gut flora. Antibiotic treatment can elicit bacterial overgrowth of this organism and elaboration of the toxins.
The Gluck Center in Kentucky has developed a bacterin-toxoid vaccine with C. perfringens Type A to immunize mares pre-partum to provide lactogenic immunity (passage of immunity to the foal through colostral antibodies). The vaccine is based on local C. perfringens strains with toxin genes. The vaccine currently in use does not contain sufficient NetF toxin to elicit a detectable antibody response in all the mares that have thus far been vaccinated. Work is being done to enrich the vaccine with recombinant NetF toxin in hopes of stimulating a greater immunogenic response by the mares to increase antibodies in the colostrum.—Nancy S. Loving, DVM